Hi prairiedogs,
Here's a few shots I have from the still upcoming scrapbook.
They are from August 9, 1986 , Eden Park, Cincy Ohio.
It was one of those events where several former members joined forces in front of an enthusiatic hometown crowd.
This era I always refer to as the " Mementos" Era, as that particular time the band was in the process of making it. the main lineup at this point was : Mike Reilly, Craig Fuller, Mike Connor, Tim Goshorn, Steven Steele (drums) and Dan Clawson ( harmonica, Sax, Flute etc.) That day/night saw the return of John David Call, Larry Goshorn , George Ed Powell and Billy Hinds.
Mike Reilly looked like a traffic cop throughout the show, directing various band members on and off stage, as they called out different tunes. As usual, he had the crowd going, and was as enthusiatic as ever !
The stage was large enough to move around, and Craig took advantage of it, that boy really busted some moves !! Twists, twirls, up and down. I stated to wonder if maybe he didn't sneak into Studio 54 back in the 70's.He really showed more of his rock side in this performance, both in his singing and playing, blasting out on several tunes like Fool For You.
"Young" Tim Gosorn, (that's how Mike described him in concerts when Tim first joined) really lit it up. During this time period, with brother Larry gone, Tim really stepped up and his musicianship really stood out, even more so than in the 70's. He's an exceptional talent, another one who helped bring us here today.
During the closer, You're Between Me, a park official went on stage to tell Mike Reilly something. At that point, Craig was doing the la, la, la,la,la,la ( did I get them all ? ) part , laughing, looking at Mike who kept signalling to go on, go on, keep going, hands twirling in the air, never missing a note in the song. Mike then informed the crowd that they were about to shut the power down as I guess there was a curfew. They got the tune in though, as the crowd and the band were having themselves one great time.
" We are Pure Prairie League! " " We are Cincinnati ! " Mike roared to the crowd after Amie.
The setlist that day:
Kansas City Southern
Place In The Middle
It's Alright
I'm Hot, You're Not
Sun Shone Lightly
Flat Tire Merle
Let Me Love You Tonight
Love Is An Illusion
Something In The Night
Out On The Street
Up In Smoke
Fool For You
Boulder Skies
Early Morning Riser
Two Lane Highway
Falling In And Out Of Love
Amie
You're Between Me
JOHN DAVID CALL, MIKE REILLY, BILLY HINDS, LARRY GOSHORN
JOHN DAVID CALL, CRAIG FULLER, LARRY GOSHORN, STEVEN STEELE
GEORGE ED POWELL, CRAIG FULLER
GEORGE, CRAIG, JOHN
CRAIG, JOHN, MIKE REILLY
CRAIG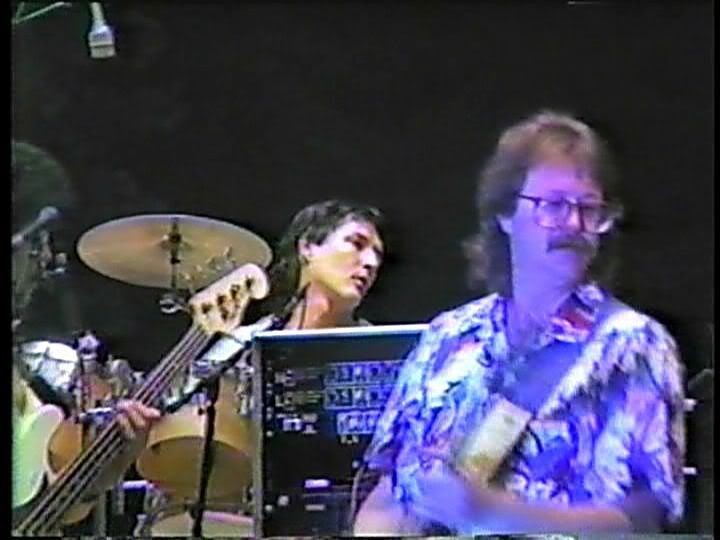 STEVEN, LARRY
LARRY
TIM GOSHORN
JOHN DAVID
MIKE "CONWAY" CONNOR
MIKE "SPIKE" REILLY
DAN CLAWSON