Hi prairiedogs,
Well since there are many players out there with roots in Kentucky and other racing mecca's, I'll share this sure fire winner with you.
There will be no triple crown winner. IHA scratched.
No need for concern. There is an even bigger play coming up.
Play the PPL superfecta. That's right, here it is, a lock :
4 straight, in this order, will take you to the winner's circle:
Thursday 07/19/12 - Amagansett, NY
Stephen Talkhouse
http://www.stephentalkhouse.com
Friday 07/20/12 - Scituate, MA
The River Club Music Hall
http://www.riverclubmusichall.com
Saturday 07/21/12 - Homer, NY
Homer P.A.C. Rick Schell's hometown !
Sunday 07/22/12 - New York City, NY
BB King Blues Club
http://www.bbkingblues.com
That's right ! Once again, PPL will play four shows, 4 nights, 4 different venues. They did it earlier this year, went 4 for 4 with sellouts, so expect the same. No need to waste time handicapping this, like I said, it's a mortal lock. Jump all over this thing now.
The band will fly out of the gate, continue to pick up the tempo, then close with an incredible rush, cruising home an uncontested winner. Look for Mike Reilly , John David Call (aka The Call of The Wild) , Rick Schell and Donnie Lee Clark in the winner's circle once again. Don't be fooled by those who like longshots, or simply play against the odds looking for something out there that comes always comes up short. That's the wiseguy approach and wiseguys end up like Henry Hill. You don't need that. Take my advice, throw out the rest and bet on the best. Go with a proven winner.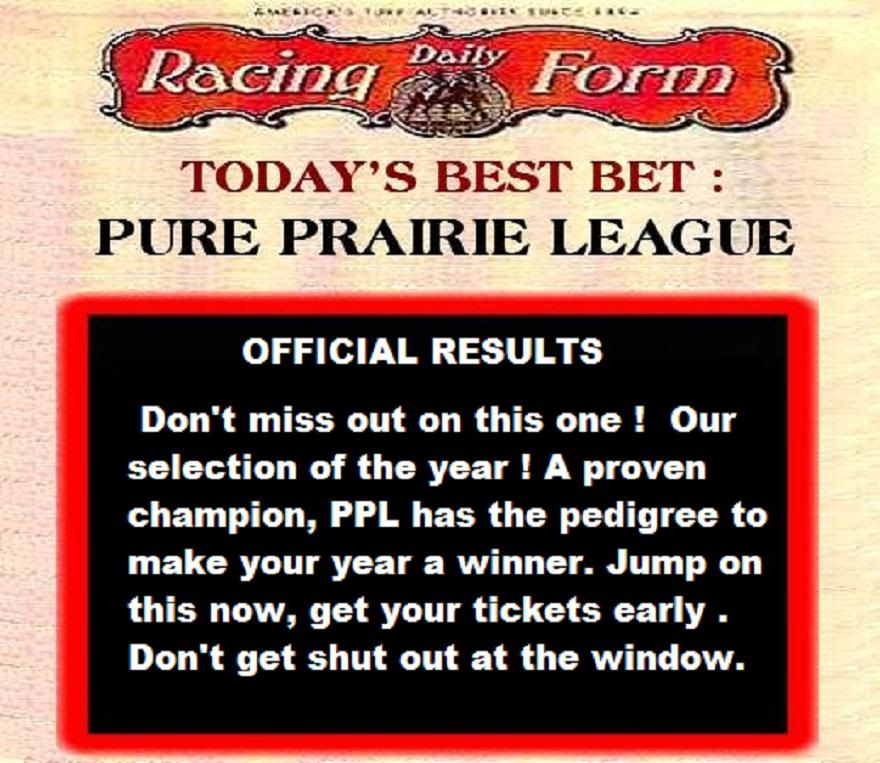 May the horse be with you,
Tom Sheridan
Floral Park, NY