Hey prairiedogs,
Here's some info re: the 2011 tour and the band members along with a very brief synopsis of PPL for those who need a refresher course. Not that anyone does, by now all of you and your children and granchildren have hopefully been brought up the right way, the Pure Prairie League way.
There's still plenty of time to catch a PPL show, keep checking the Tour page for additional shows.
I hope the summer is treating you well. Mike Reilly, John David Call, Rick Schell and Donnie Lee Clark are working their prairie tails off to bring you something special, take advantage of it if you can !
All the best,
Tom Sheridan
Saturday 07/16/11 - Superior, WI
Head of the Lakes Fair
http://www.holfair.com/
Wednesday 07/20/11 - Petoskey, MI
Emmett County Fair
http://www.emmetcounty.org
Friday 07/22/11 - Hillsboro,MO
http://www.jeffersoncountyfair.net/
Saturday 07/23/11 - Evanston, IL Space
http://evanstonspace.com/overview.html
Thursday 08/04/11 Red Bank, NJ.
Count Basie Theatre w/Poco & Firefall
http://www.countbasietheatre.org/calend
... d=43246959
Saturday 08/06/11 - New York, NY
BB King's
http://www.bbkingblues.com/
Sunday 08/07/11 - Amagansett, NY
The Stephen Talkhouse 8:00 pm
http://www.stephentalkhouse.com
Friday 08/12/11 - Columbus, OH
Huntington Park Hoe Down ,Columbus, OH
Gates open at 5:00 Chris Logson , Jonalee White, McGuffey Lane, Exile
Pure Prairie League
Saturday 09/03/11 - Whitefish, MT
Depot Park Montana Music Festival
http://www.mtmusicfest.com/The-Festival.html
Saturday 09/24/11 - Boulder, CO
Boulder Theater, with Poco
http://www.bouldertheater.com/
Sunday 09/25/11 - San Diego, CA
Anthology Lounge
http://www.anthologysd.com
Saturday 10/08/11 - Prescott, AZ
Yavapal College with Poco
http://www.yc.edu/v4content/community-e ... hedule.htm
Thursday 11/10/11 Norfolk CT
http://www.infinityhall.com/
Friday 11/11/11 Bethel NY
Bethel Woods Center for the Arts
http://www.bethelwoodscenter.org/home.aspx
Saturday 11/12/11 Old Saybrook CT
Katharine Hepburn center for the arts
http://www.katharinehepburntheater.org/blog/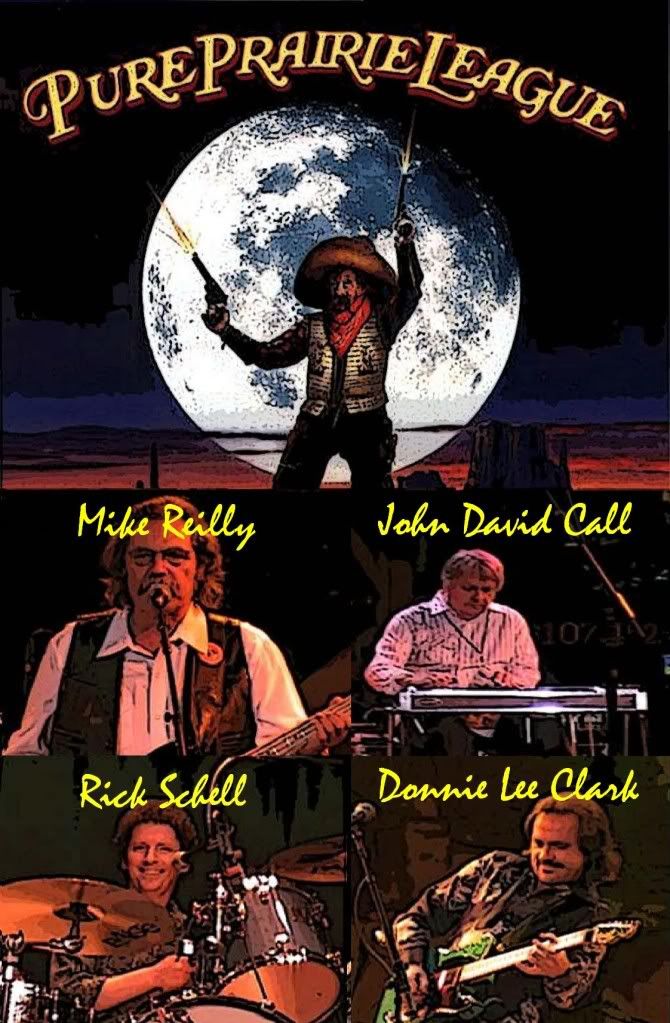 Pure Prairie League is not only one of the earliest bands in the history of country rock, it is one of it's most successful, influential and critically acclaimed. Inspired by various folk and rock acts, most notably The Byrds and The Beatles, PPL formed in Waverly , Ohio in 1969. The pioneering band boasts numerous critically acclaimed releases from the 70's and 80's, which many have praised as the greatest country rock ever recorded. The self titled debut LP, Bustin' Out, Two Lane Highway, Live ! Takin' The Stage, Firin' Up and the most recent, All In Good Time, are among the PPL releases hailed as classics by critics and why fans today are still clamoring for more.

The band rose to the top of the country rock world in the 70's and stayed there into the 80's accomplishing what no other country rock band did: 5 consecutive releases in the 70's and another in the 80's that hit Top 40 LP charts. Credited with advancing the country rock genre into the national music mainstream, PPL was the first of the genre to hit Billboard's Country Top 40 charts, merging rock and roll and country music. While The Eagles turned to a decidely more rock oriented approach, it was Pure Prairie League who ignited the country rock torch and kept it burning brightly as the music scene changed abruptly in the mid 70's. The trail of success which PPL blazed widened the road for their country rock contemporaries as the spark lit by PPL kept the genre alive and provided a path for others to follow.

The legacy of PPL and it's influence on both it's peers and future recording artists is extraordinary. It's music appears on well over 100 CD compilations, a true testament to both the level of excitement and respect the band generated. Cited as influential by Garth Brooks, Toby Keith, Montgomery Gentry, Lonestar, Ricky Skaggs, Travis Tritt, Dolly Parton , Keith Urban, Patty Loveless, Counting Crows, The Nitty Gritty Dirt Band, former member and Country Music Hall of Fame superstar Vince Gill and numerous others who have played and recorded their work, PPL continues to forge ahead. Not content to rest on their laurels, the band added their most recent release in 2005, All In Good Time, hailed by Goldmine Magazine as " an unlikely but potent candidate for CD of the year." Heady praise, yet it's come to be expected from PPL. Obviously PPL is far more than nostalgia, it is still a force to be reckoned with 42 years since it's inception.

Today's PPL boasts a lineup that rivals it's storied past. Founding member and pedal steel sensation John David Call is back, thrilling fans with his pioneering style that earned him the reputation as one of the greatest and most influential pedal steel players of all time. Mike Reilly, who joined during PPL's 2nd LP and has been there ever since, is at the helm on bass and vocals , igniting the crowd much like he's done for decades, directing PPL around the country. Rounding out the band are drummer, vocalist Rick Schell, in his 10th year with PPL and guitarist, vocalist Donnie Lee Clark, now in his 6th year with the band. Founding member Craig Fuller has toured with the band full time for several years and still appears on occasion, while George Ed Powell, another founding member, has also checked in on occasion. The band presents a powerful lineup, one which has proven to be a major force even in today's scene, selling out venues all over the country.

A PPL show will showcase some new tunes as well as bring back many of the songs which took PPL to the top of country rock world. The immortal Amie, Tears, Two Lane Highway, Let Me Love You Tonight, Kansas City Southern , Pickin' To Beat The Devil, I'm Almost Ready, I'll Be Damned and Woman are just a few of the classics which liven up a PPL show. This is a band not to be missed. It's country rock at it's best - it's Pure Prairie League.