Hey prairiedogs,
I mentioned under another thread that "The Call of The Wild", Mr. John David Call is back in action with PPL this year !
THE CALL OF THE WILD
This deserves a special mention, which I've already waited too long on.
John is far more than just an original member of the band. It's probably fair to say that John as much as anyone who performed under the enormous legacy of the PPL banner is responsible for it's success.His pedal steel and general musical knowledge shaped the sound of PPL for decades to come. What John and the guys started in the late 60's is why we are here today, over 40 years later, still listening to them, still heading out to a show, still asking for more.
Every major magazine and newspapers from all over the country hailed John's up front, mesmerizing pedal steel licks. I know, I have many of the articles.He was a true pioneer, someone who avoided the cliches that the steelers in the country music world tended to favor. In fact, his brash approach at times maybe even annoyed a few, more than likely because he was doing something they either couldn't or hadn't thought about.
In the mid 70's I attended a few pedal steel conventions in my neighborhood. Ok, I'll admit it's because they were held in a K of C Hall where I was a member and the beer was ridiculously cheap. I'm talking put down a 5, leave with a 10 and not know where you had been. No regrets there.
Anyway, there were steelers from all over the country.Those days were when I truly realized what an enormous influence John had on so many people. I had read and heard comments form great musicians who hailed him, people like Billy Joel, Emmy Lou Harris, Dolly Parton, Jimmy Buffet, Chuck Mangione, Neil Young, Buddy Cage,Buddy Emmons, The Nitty Gritty Dirt Band, Marshall Tucker Band, Lowell George and the rest of Feat, the list is endless.
But those steelers really brought the point home. The guy who ran the whole thing told me " Every where we go, all over the country, there's a whole new group of pedal steel players who rave about him. There's no question he's brought about a whole new interest in the instrument, maybe more so than anyone in recent memory.And everyone of them all want to know how to do that darn train whistle."
Today, over 40 years since John upped the ante in the PPL debut LP, the influence is still just as huge,steelers all over the country still citing his work, still listing him as the guy who started them off, still playing the licks that John cemented in their memories.
Here's some comments i took from the Steel Guitar Forum. These comments not only came from all over the country but England, Sweden and maybe a few others. Stop for a second and realize that John stopped playing with PPL in 1977. Then check out what these talented steelers have to say all these years later. When you reflect on it, you'll realize why John David Call is one of the all time greats, why what he did and continues to do with PPL will always be there for many generations to come.And why Pedal Steelers 40 years from know will still be asking " How did he do that darn whistle? "
All the best,
Tom Sheridan
Floral Park, NY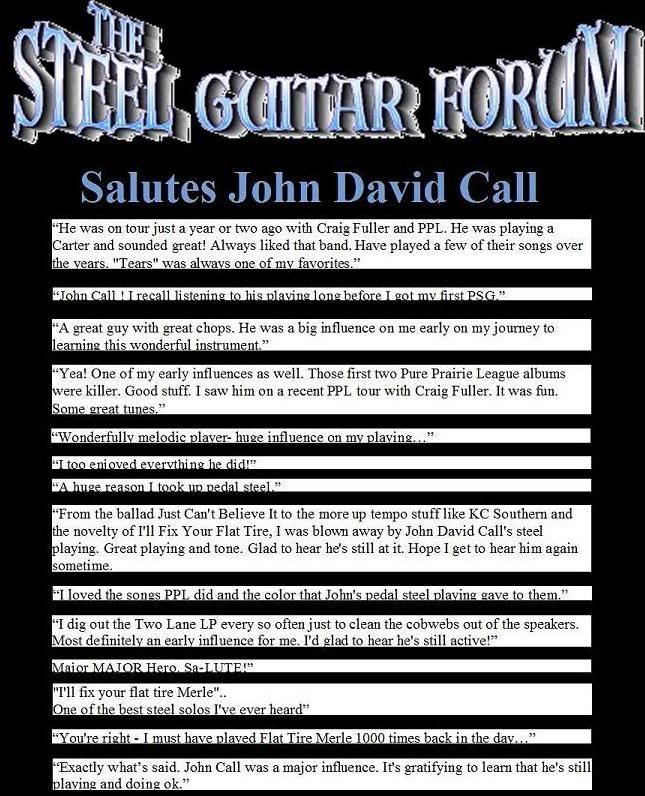 IMG]http://i275.photobucket.com/albums/jj283/MrPrairiedog/steel1.jpg[/IMG]